The 5 W's of My First Twitter Chat

I was anti-Twitter for YEARS. A corner of the world wide web where people tried to impress fellow strangers with random thoughts and snarky comments? Thanks, but no thanks. Celebrity feuds and the remarks of political figures only furthered this negative opinion. I vowed to keep off of Twitter and stick to the social media apps where I could look at edited photos and scroll in comfort.
In 2017, my view of Twitter began to change when I started a new job in a new school district in a new state where Twitter use was highly encouraged. I avoided it for a while, but eventually adopted the "if you can't beat them, join them" mentality. I'm so glad that I did.
I participated in my first public Twitter chat on Wednesday, February 13th. As a STEM Coordinator who uses design thinking daily in my professional and personal life, I thought the #dtk12chat would be a safe starting place. Before the chat began, I felt apprehensive. Worrisome thoughts swirled in my head: What if I don't know what to post? What if I can't keep up? What if no one responds to my thoughts? What if I'm unqualified to converse with this group?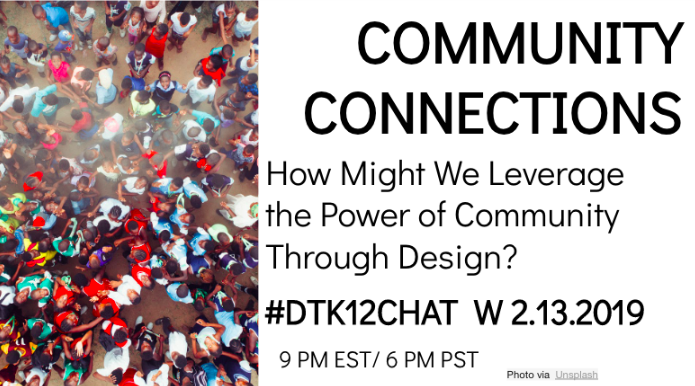 The details…
Who – The #dtk12chat website describes the group as "a community of educators + designers with a wide range and depth of design thinking experience – from novice to expert." The chat has 16 moderators who regularly lead discussions and engage with the group to share resources and ideas. Since 2012, the hashtag has been shared more than 14,000 times.
What – The focus of the chat changes weekly. This week's chat focused on the power of community connections. How might we leverage the power of community through design thinking? The chat was broken down into five main themes: Inventory, dream, empathize, align, and act.
Where – While I started out following along on Twitter, I quickly realized that it was nearly impossible to keep up without extra organizational support. I felt overwhelmed and wanted to quit. However, after I switched to TweetDeck, it was much easier to follow along with the conversation.
When – The chat took place for one hour from 7:00 – 8:00 p.m MST. Much to my surprise, the time passed extremely quickly!
Why – Participating in a Twitter chat has a wide array of benefits! I left the conversation with new ideas for future lesson and activities at my school, some of which I can implement tomorrow! It was empowering to connect and engage with thought leaders from the field of design thinking (for free!). I even received a few shout outs and retweets for some of the ideas that I shared! A bonus to all of the sharing and learning was the opportunity to grow my PLN and connect with fellow design thinkers from around the country.

All in all, my first Twitter chat was a positive and fun experience! I will need to engage in a few more chats before I feel confident in my abilities. My biggest piece of advice for nervous participants is to observe a chat first to become familiar with the process, or choose a topic that you feel passionate about and share your voice! Happy tweeting! #boomshakala
Please follow and like us: